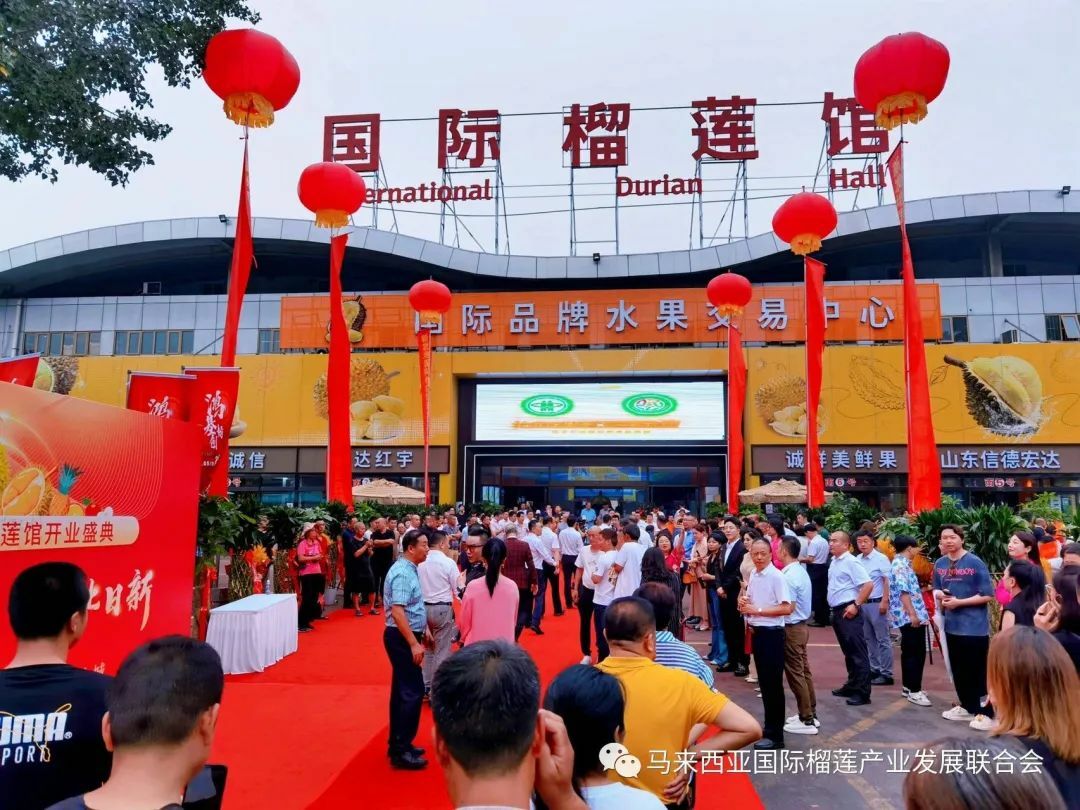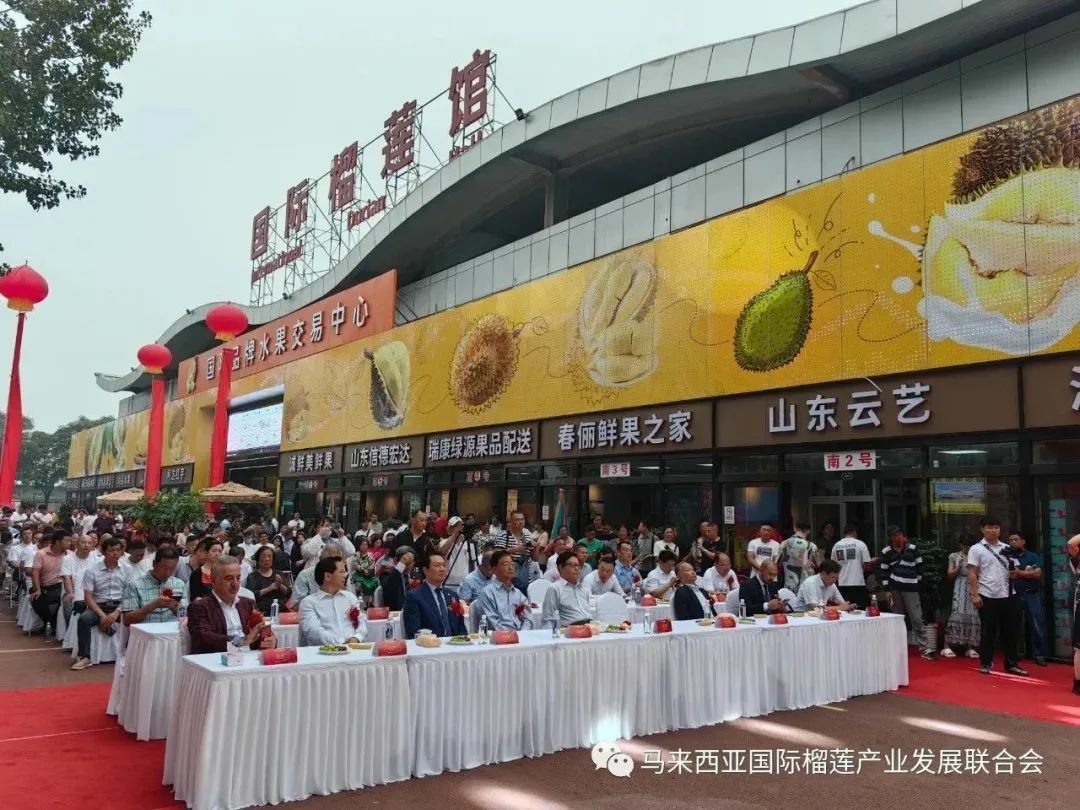 "On September 8th, the Beijing Xinfadi International Durian Pavilion officially opened its doors, bringing together durians from various Southeast Asian countries to meet the strong demand for high-quality products among consumers in the capital. The establishment of the Durian Pavilion received extensive attention and strong support from various sectors of society. Attendees at the opening ceremony included Cheng Lu, Vice Chairman of the 9th National Federation of Industry and Commerce, Wang Dexue, former Deputy Secretary of the Party Committee and Deputy Director of the National Administration of Work Safety, Liu Zhenyu, former Party Committee Member and Deputy Minister of the Ministry of Justice, Zhang Jiuhuan, former Ambassador Extraordinary and Plenipotentiary of the Kingdom of Thailand, Quan Shunji, President of the China Asian Economic Development Association, Mr. Hadzizi, First Secretary of the Embassy of Malaysia in China, Zhang Huayu, Director of the Foreign Trade Operation Department of the Beijing Municipal Commerce Bureau, and Fang Ming, President of the Malaysia International Durian Industry Development Association.
The opening of the Xinfadi International Durian Pavilion signifies the convergence of high-quality durians from Southeast Asian countries in Beijing, becoming a new landmark for durian consumption. It provides the people of the capital with more choices of quality durians, meeting their demands and aspirations for a high-quality and wonderful life.
Currently, the durian industry is thriving in various Southeast Asian countries. Thailand, Malaysia, Vietnam, Indonesia, the Philippines, and other nations are major durian producers, with their climate and soil conditions ideal for durian cultivation. Local farmers have cultivated high-quality durian varieties through careful planting and management, providing abundant durian resources to the global market. Durian, known as the "King of Fruits," is highly nutritious and beloved by consumers.
As a tropical fruit with high climate and soil requirements, domestically produced durians in China are far from sufficient to meet the demands of Chinese consumers. According to data from the General Administration of Customs of China, the total import of fruits in China reached $14.6 billion in 2022, with durians accounting for $4.03 billion, approximately 28%, ranking first and showing great consumption potential. In recent years, more and more consumers have been paying attention to the taste of durians and have a strong demand for high-quality durians, hoping to taste a variety of fresh, sweet, and authentic durians and enjoy the unique flavor and wonderful experience they offer.
The opening of the Xinfadi International Durian Pavilion caters to this trend, offering a wide range of well-known durian varieties such as Musang King, Sultan King, Black Thorn, Red Prawn, Golden Pillow, and Gan Yao, along with distinctive durian products like durian flesh, durian cakes, durian coffee, and more. This provides consumers with more high-quality choices and creates an evergreen durian expo and a popular destination for durian enthusiasts.
In the future, Xinfadi Market will lay out a new plan for durian origin planting, processing and sorting, brand incubation, cross-border trade, and marketing planning to construct a complete durian industry chain. We are committed to strengthening cooperation with Southeast Asian countries, introducing more high-quality durian varieties, and improving the quality and taste of durians. At the same time, we will enhance the quality testing and supervision of durians, raise market entry standards, and ensure that every durian meets high-quality standards. Through these efforts, we aim to provide consumers with more high-quality and delicious durian products, allowing them to 'explore the world of durians at Xinfadi Market.'"